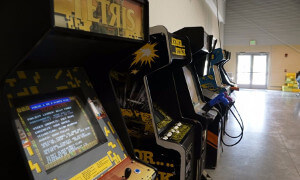 "So, what exactly is Vincon," you ask?  Well, we are a gathering of like minded individuals who have a passion for all things nerdy.  Play with our huge collection of free-to-play games or participate in the highly popular swap meet: there is something for everyone at Vincon.  We will also be hosting tournaments and many other competitive events all weekend for people of all ages to enjoy, so come check us out!
General Rules Of Conduct
For everyone's safety at Vincon we ask that you be kind to your fellow convention goer. We also need to keep all hallways and entrances clear so everyone can have a good time. Vincon staff members may ask for your badge at any time, so please have them available and displayed for all volunteers and staff members to see. Below you will find a listing of some of the basic rules we ask you to please follow while engaging in all activities throughout the weekend.
No Shirt, No Shoes, No Service. This is a policy the event complex will be enforcing so please be aware of this if you will be wearing a costume.
We will not be allowing and items into the free-to-play lounge. Due to the fact that so many games and systems will be out for people to play and enjoy, we don't want anything walking off.  We ask that you please check in any backpack or bags at the free-to-play lounge front desk.
All children under the age of 10 must be accompanied by a parent or guardian.
Dress Code & Weapons Policy
If you have never been to a convention before, or if just want to know how we do things then you're in the right place. Vincon is a family event so we ask all of our attendees to keep this in mind when making their costumes and other props. A Vincon staff member holds the right to deny any piece of costume or prop that is deemed inappropriate.
No shoes, No Shirt, No Service! This is a venue policy.
Must have over half your body covered in some form. This means mid drifts are ok as long as enough of the rest of your body is covered.
Mesh and skin tone leggings are OK as long as there is no illusion of nudity.
As a general rule if you feel like your costume might be too revealing then it probably is.
Please no costume attachments that extend from your body more than a few feet.
Absolutely no metal props are allowed. If you are seen with one you will be asked to take it to your car/room.
Guns need to either have the orange tip or look non metal.
Guns also can not fire anything from them or be working in any way.