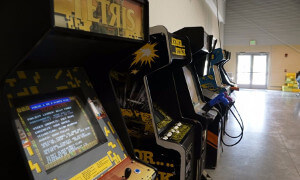 VinCon is an annual vintage video game convention held in Loveland, CO and hosted by the Loveland video game store Games Ahoy. Every year we aim to create an unforgettable community experience for video game enthusiasts of all ages as well as collectors of comics, figures, trading cards and other nerd related TREASURE!
This event will feature FREE-TO-PLAY retro video game consoles and arcade cabinets from every decade; professional and private video game, collectible and art exhibitors; a swap meet area for anyone interested in selling or trading away their personal collection; tournaments, mini-games, music, cosplay and much more!
General Rules Of Conduct
For everyone's safety at Vincon we ask that you be kind to your fellow convention goer. We also need to keep all hallways and entrances clear so everyone can have a good time. Below you will find a listing of some of the basic rules we ask you to please follow while engaging in all activities throughout the weekend.
No Shirt, No Shoes, No Service. This is a policy the event complex will be enforcing so please be aware of this if you will be wearing a costume.
All bags and storage containers are prohibited in the video game console areas and we ask that you check in these items at the check-in booth of each of these areas.
All children ages 10 and under must be accompanied by a parent or guardian.
Dress Code & Weapons Policy
Vincon is a family friendly event so we ask all of our attendees to keep this in mind when making their costumes and other props. A Vincon staff member holds the right to confiscate props or deny entry to any attendee sporting a costume or prop that is deemed inappropriate.
Dress code:
You must be wearing shoes and a shirt, this is building policy
Please keep costumes modest, this is a con for all ages.
Costumes may be from a video game, comic, movie, or anime.
You must have your torso covered in some way, whether you are male or female.
Weapons and props:
If you bring any props or weapons to the con you must have them registered at props check.
You may not bring any metal props or weapons.
Do no swing around your props or hit other attendees with them.
If you have a bow and arrow do not pull back or fire your arrow in the con building.