Free-To-Play Tournaments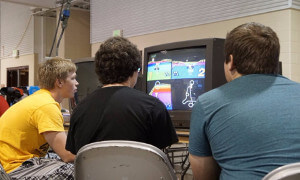 Free-to-play Tournaments are a great way to spend the day at Vincon. All events will have there sign up sheets available on site at the Free-To-Play lounge front desk and all controllers and other equipment will be provided. We have everything from classic puzzle games to fighting games that we will pit you against your fellow convention goer for prizes and more! Below is a list of games that we run during the weekend.
Schedule for 2017 TBA!
Premier Tournaments
All tournaments are open to any convention attendee, but premiere tournaments have an additional $10 entry fee. However the top ranking players in these premiere tournaments will have cash prizes. We do require that you show up at least 10 minutes before a scheduled event and bring your own controller. Below are all the types of tournaments we will host and links to there specific rules so that you can start training now!
Super Smash Bros. Tournament Rules
No coaching, determined by TO.
No excessive stalling, determined by TO.
Game sets are best of 3.
Best of 5 sets are used for Winner's Finals, Loser's Finals, and Grand Finals.
Items are set to "off" and "none".
Players may call for double blind character selection before sets.
Stage striking order and port priority are decided by Rock-Paper-Scissors.
Pause is disabled. If left on, pausing results in a lost stock for the player who paused.
Quitting out of a match counts as loosing the match for the quitting player.
If a match times out, the player with the most stocks remaining will win. If the stocks are even, the player with the lowest % will win.
Players may agree to any rule outside of the official rules, if BOTH players agree.
Stage Restrictions
Super Smash Melee
Stock: 4
Timer: 8 minutes.
Nuteral Stages: Fountain of Dreams, Dream Land (64), Final Destination, Battlefield, Yoshi's Island.
Counter Pick: Pokemon Stadium.
Super Smash Wii U
Stock: Singles 2, Doubles 3
Timer: Singles 6 Minutes, Doubles 8 Minutes
Nuteral Stages: Smashville, Battlefield, Final Destination, Lylat Cruise, Town and City.
Counter Pick: Dream Land (64), Duck Hunt.